mobile live fire
training system
RIGHT ON TARGET
electronic hit scoring system
Inhalte von Vimeo werden aufgrund deiner aktuellen Cookie-Einstellungen nicht angezeigt. Klicke auf "Zustimmen & anzeigen", um zuzustimmen, dass die erforderlichen Daten an Vimeo weitergeleitet werden, und den Inhalt anzusehen. Mehr dazu erfährst du in unserer Datenschutz. Du kannst deine Zustimmung jederzeit widerrufen. Gehe dazu einfach in deine eigenen Cookie-Einstellungen.
Zustimmen & anzeigen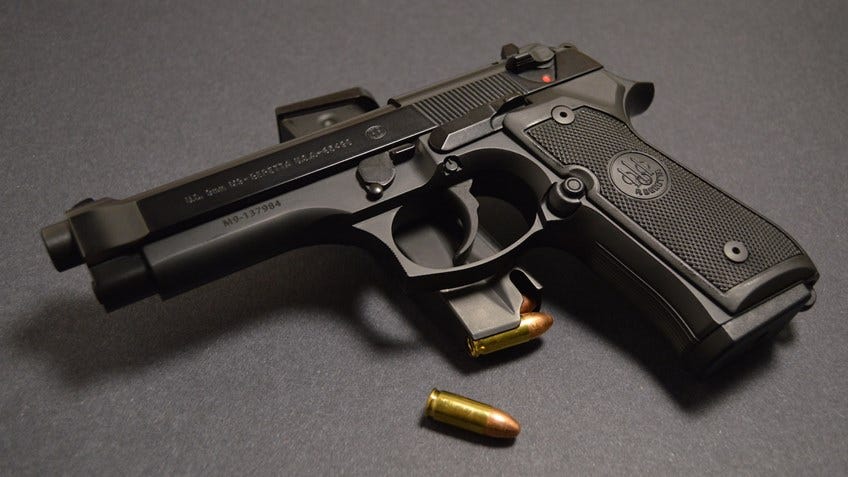 live fire shooting Training
Handguns: FMJ ammunition up to 1500 joules (standard version)
Long guns: cal. .223 / 5.56x45 Nato / GP90 up to 2500 joules




alternative training with
softair weapons
Handguns: BB's 6mm / 2.4 joules
Long guns: cal.68 / up to 40 joules
(see novel training system)
performance
Shot cadence=12 shots / sec.
V0=1200m/sec.
Angle of fire=45°-90°
Shooting distance
physically= 2.5m up to 25m
digital=up to 20m
quality
Lifetimes
Indestructable physical structure
Screen up to 40'000 shots
Projector up to 30'000 hours

Safety
Superior anti ricochet protection
Right into the black
educate.
train.
test.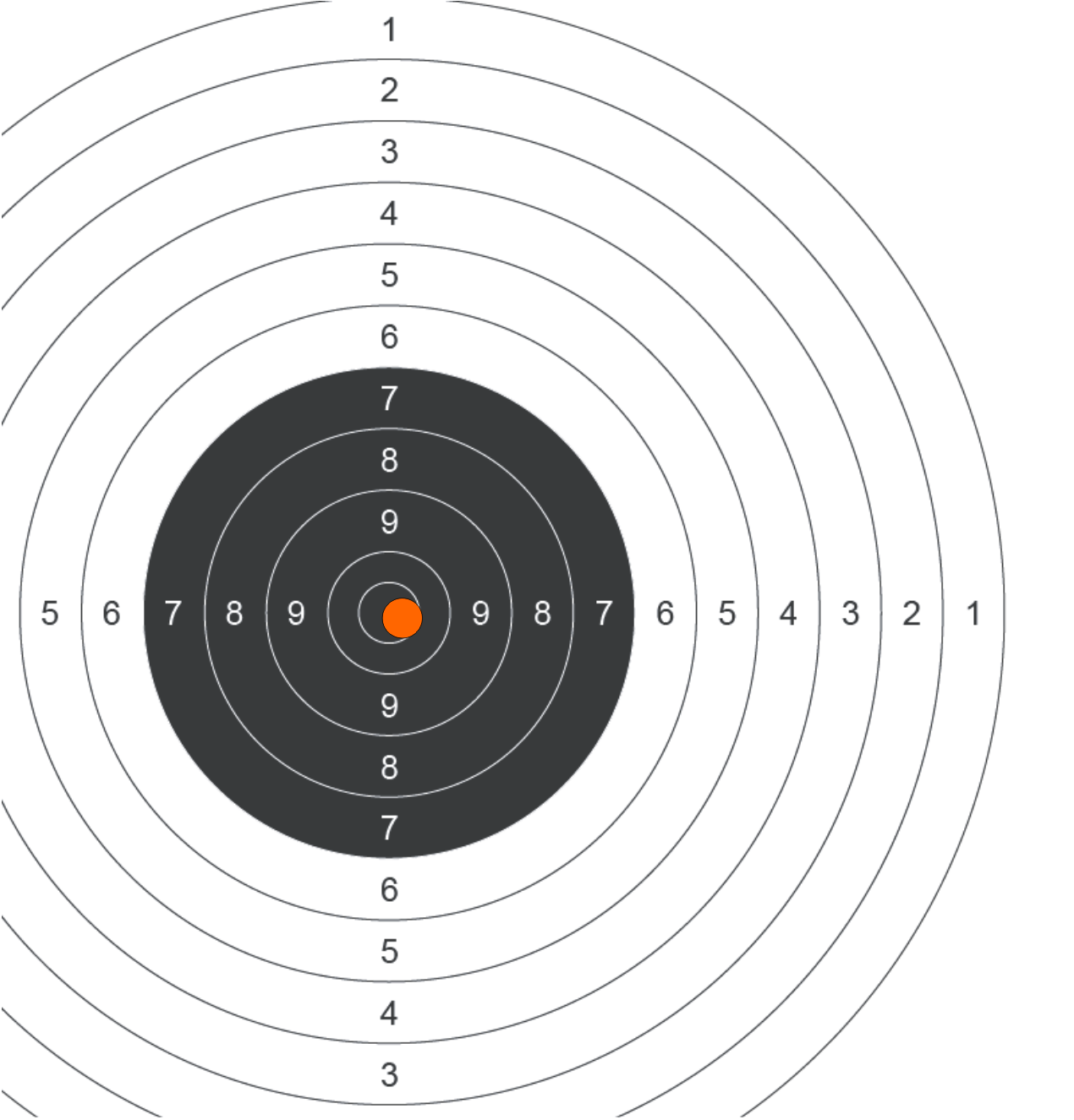 hit display
Scoreboard both on the touch screen and on target screen.
Numbered shot sequence with marked "last" shot.

scatter plot analysis
Shot image analysis with diameter indication.

evaluation
order
Score
Time / Split time
Total score
Grouping diameter

rapport
Generation of a PDF
Printout
Dispatch
Data storage
static targets
categories
sports
defence
skill
exams
vocational


Target images for the authority on request
dynamic targets
categories
folding targets
categories
image sequences
categories
sport
duel
defence
friend/enemy
multiple shots
multiple targets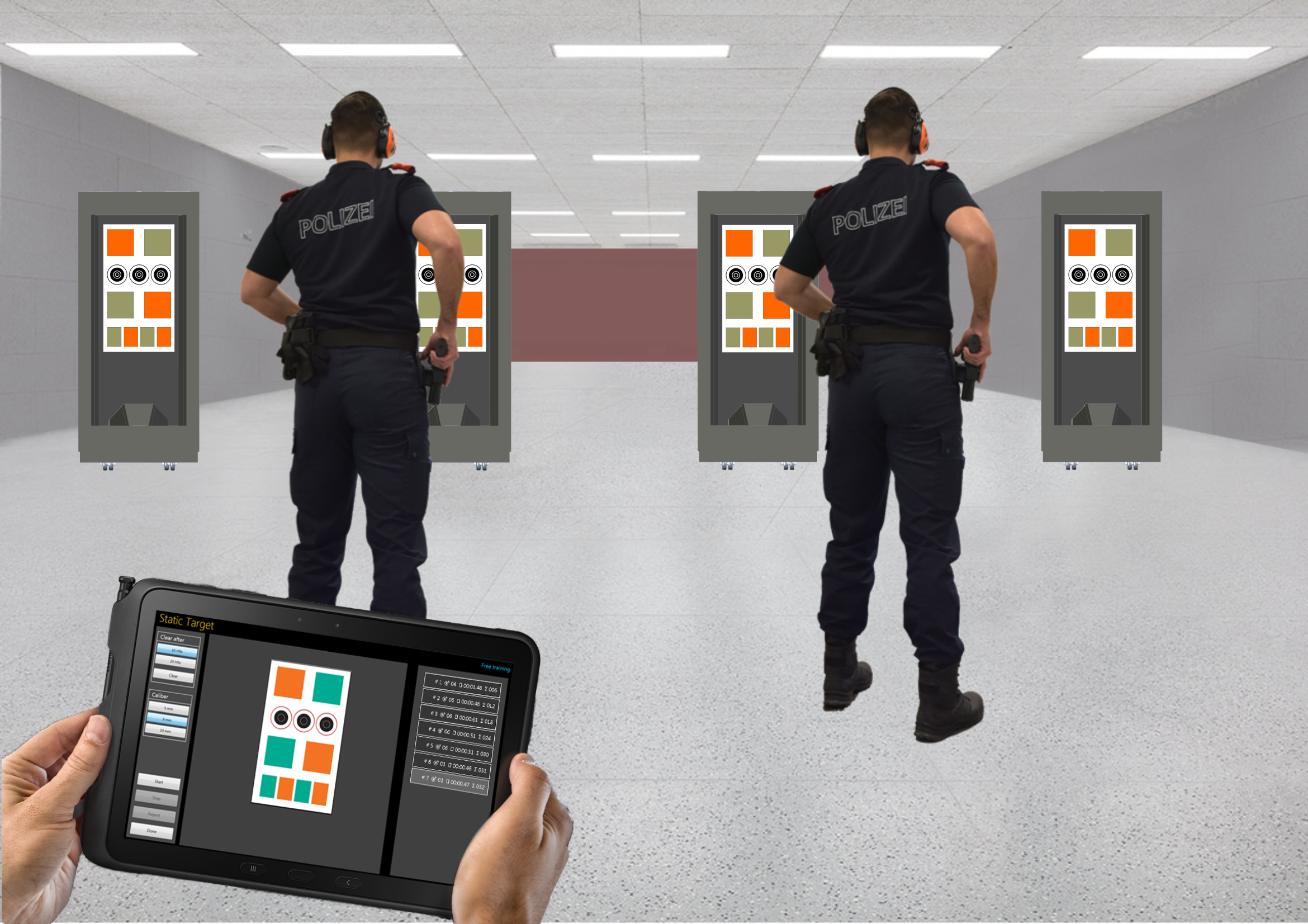 Flexibility
Individual-, team- and group training
variable shooting distance
At the touch of a button
short Distance
Target display = 1:1


Physical distance = 2.5
Shooting distance = 2.5
long Distance
Target display = 1:1


Physical distance = 2.5 - 25m
Shooting distance = 2.5 - 25m
max distance
Target display =
digitally downscaled to 20m

Physical distance = 25m
Shooting distance = 45m
Designing the training

Integration and creation of own target images, shooting programmes and training sequences


target images
Integration or creation of own target images
in the categories
Static targets
Dynamic targets
Image sequences
Folding targets
programs
Program sequence
Structuring
Picture sequences
Level of difficulty
Speed
Hit zones
Definition and evaluation
Definition of hit zones
Evaluation of hit zones
settings
Times: Pauses, display duration, speed
Random: frame selection, repetitions, frame position
Shooting distances: Individual setting of distances
Programme defaults: Number of shots, shooting position,
fade in of training specific information, etc.
implementation
We are happy to help you design your shooting training and targets according to your needs. For technical reasons, there are unfortunately limits to what we can do. For this we ask for your understanding. We would be happy to inform you personally about the diversity of TARGETDESIGNER.
maintenance

service contract
Dust and particle cleaning
Care and inspection of electronic components and parts
Warranty or on behalf
Remote maintenance
Software Updates
Diagnostics
Calibration
awareness
"A gun owner without realistic and situational training in an emergency situation, is a danger to himself and his environment!"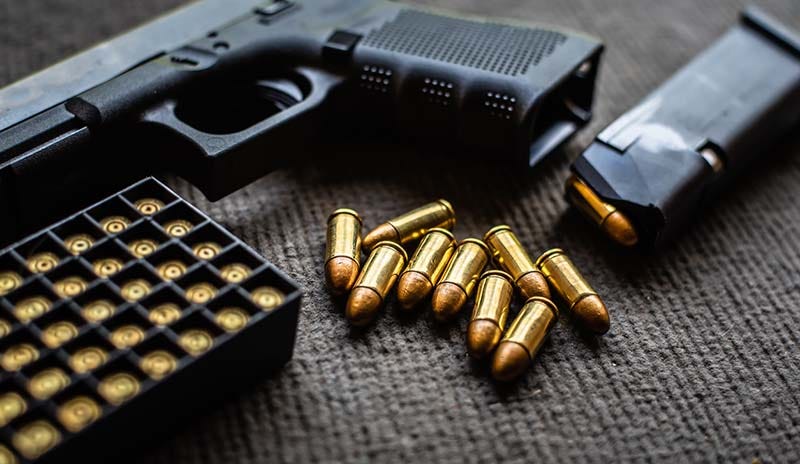 Leasing:
Top offers from CHF 20.00 per day!

Let our team advise you comprehensively and competently and benefit from the many years of experience of our leasing partners in Switzerland, Germany and Austria.

If you have any further questions, please do not hesitate to contact us. We look forward to hearing from you.



training. skills. competence.




All information without guarantee and claim to completeness.
2018-2023 copyright © D FENCE International Security AG